In our KristenBellTattoos.com Crush Q&A series, we get to know some of the more intimate details of our favorite celebrities, from their first crush to the best love advice they've ever received. This month, we're crazy about The Summer Where I Got Pretty star David Iacono.
In The Summer I Got Pretty, David Iacono has a pretty tough job. The show, based on a series of novels by To All the Boys I've Loved Before author Jenny Khan, focuses on Bellie Conklin (Lola Tung), a teenage girl who spends every summer with her mom and brother at her mom's best friend, Suzanne. beach house. Belli loves everything about Cousins ​​Beach, especially Suzanne's two sons. There's Conrad (Nicholas Briney), the classic misunderstood heartthrob that Belli was in love with before she could remember, and Jeremiah (Gavin Casalengo), one of Belli's best friends.
Then there's Cam Yacono. Cam is a guy Belly has known since middle school and is definitely a loser to win Belly's heart, but he makes a strong case for why she should give him a chance. Yakono makes you root for Cam, who, in his own words, is a little "goofy" and serves as a comic relief at times. Yakono was excited to step into a carefree role. "It's written that he's a bit clumsy," Iacono tells Popsugar. "At the same time, he makes it work. [He] handles it really well, just because he's so sincere and sincere with people."
The show was filmed in the summer of 2021 on the beach in Wilmington, North Carolina. "I loved the experience so much," Iacono says. "I have so many good memories. It's so great to be a part of something so much bigger than you."
Yacono is a guy from New York (he and Tang actually went to Manhattan's LaGuardia High School, also known as Glory High School together), so he was more familiar with the summer days spent on the beach in Rockaway and Breezy Point than it was with the beach towns that inspired "The Summer I Turned Beautiful". But he has an experience similar to Belli's.
"I used to go to Florida every summer for a couple of weeks to visit my cousin. Every summer we came back, and everything immediately converged, as if time had not passed, "he explains. "Being able to just completely, immediately return to where you left off, even though it's been almost a full year, there's something so comforting about it. I think the show captures that very well."
Yacono says that despite the large and young cast, there weren't many pranks on set because they didn't want to get in trouble, even though he fell victim to one on the very last day of filming. The draw was organized by Briney and it took a lot of coordination. Yakono filmed his last scene in Belli's backyard. The director asked for the last take. "I didn't think about it," he recalls. The cloakroom attendant came up and told him to take his phone out of his pocket. "And then the sound engineers came up to me. They said, "So we're just going to get sound on the boom. We don't need you to be the microphone for this." I thought, "Cool. No problem". They removed the microphone," he says.
Then came director Erica Danton. "She said, 'David, for this last shot, because I set the angle, we just need you to get a little closer to the pool.' I'm like, "Cool. No problem," he says. "She says, 'Action.' I enter the stage. And then out of nowhere, Chris, who is hiding in the corner of the backyard, is yelling at me and shouting my name," he says. "[He] throws me into the pool in all my clothes. And then, when I emerged from the water, Erica said: "David is finished." It was one of my favorite memories of the entire performance. It made me so happy. I didn't even get angry. It's such a basic memory."
"Being able to just completely, immediately return to where you left off, even though it's been almost a full year, there's something so comforting about it. I think the show captures that very well."
Viewers may recognize Iacono from another big show: The Stewardess. He plays Eli, son of Megan Rosie Perez. Working with Perez was a dream. "She is a legend. My favorite movie of all time is Do the Right Thing, he says. "So when I found out she was playing my mother, I lost it. And then I was obviously a little nervous, just because she's such an icon. And then I went there and she was so nice to me." His mom and Rosie have become friends, and he jokes that she is like a second mom to him.
"She's not nonsense or anything, either," he says. "I definitely learned a lot from her because she has been in the business for so long. She knows all the subtleties of the entire acting process, especially on camera. for so long." He credits Perez with teaching him that it's okay to defend yourself on set.
All seven episodes of The Summer I Turned Pretty will be released on Prime Video on June 17th. Read the rest of Iacono's KristenBellTattoos.com Crush interview ahead.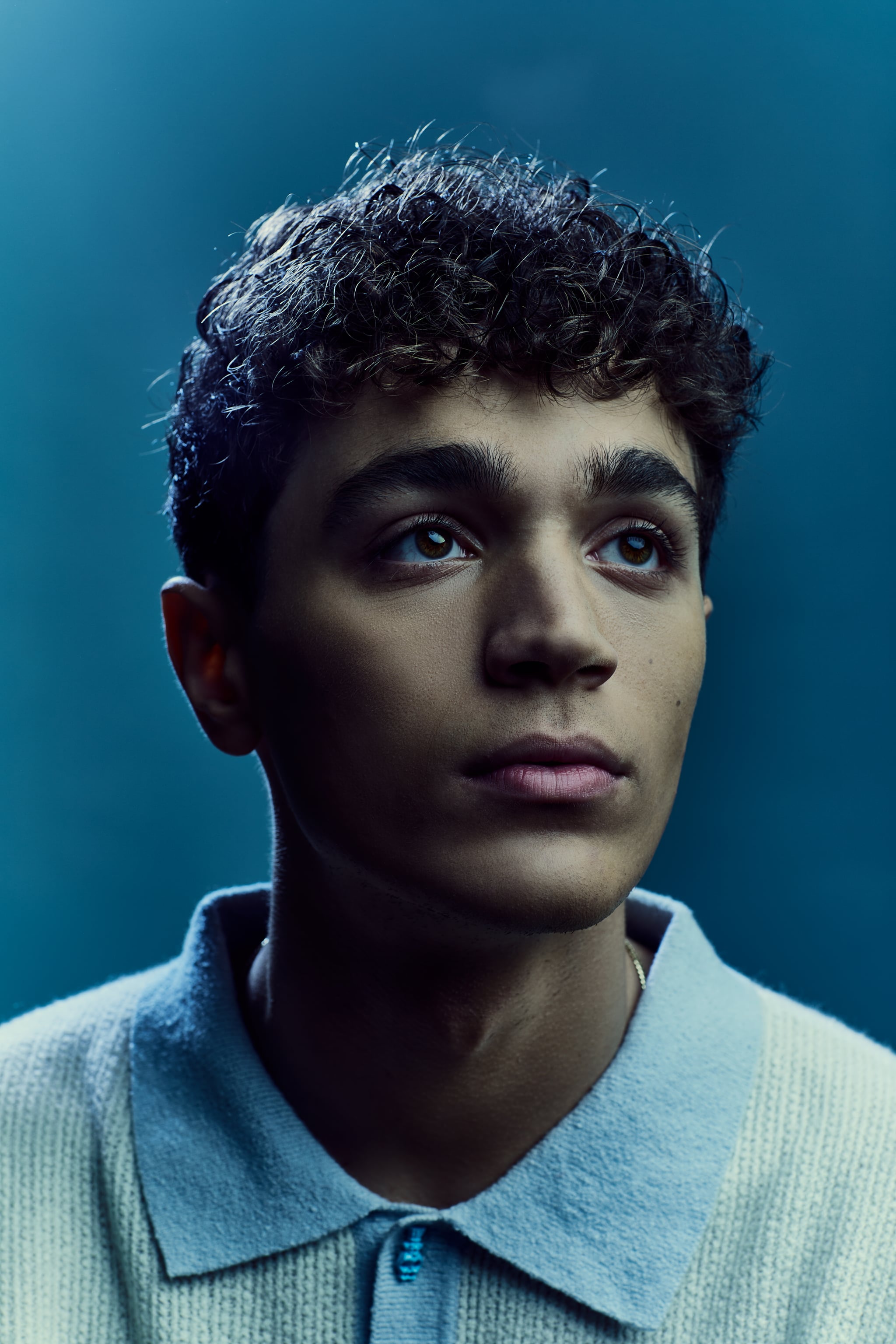 Favorite pickup line:
I think it's insanely funny to ruin a pickup truck line. Here's how I would approach it. Like, "Hey, did you fall out of the sky because I only see you 10?" And then she's like, "What?" And then you're like, "Yeah, I messed up. But hi, I'm David." Either that or "How much does a polar bear weigh? Enough to break the ice. Hi, I'm David."
Favorite flirtatious emoji:
Flushed emoji with small hearts around it. 🥰
Signature scent:
I'm not a big fan of colognes. The only time I really wear cologne is for special occasions, if it's a big event or something, or a party. I just use deodorant. My mom recently bought me one of the Tom Ford colognes. I think it was pretty cool. I grew up using this Adidas cologne which is pretty casual but it really works. I don't think you need to spend crazy money on cologne.
Favorite training move:
I'm not a sports rat. I do push-ups. It does the job.
Dogs or cats?
This is debatable. I'm a cat person at heart, simply because I grew up with a cat. I have a dog now. He's a good friend of mine and he knows it, but I'm a cat person.
What is your coffee/tea order?
I don't drink either. I like Sprite.
What would your dating profile say about you?
Recently I had Tinder. I don't use it at all anymore. But I think my Tinder bio was like, "Wait, these aren't cool math games?" I thought it was funny. I don't like dating apps. They scare me.
Most memorable fan encounter?
I was walking down the street – I think I was in the center of Brooklyn. I just listened to music. This dude. . . pointed at me and said something. I couldn't hear, so I took off my headphones. I'm like, "Oh, I'm sorry." He's like, "Flight attendant." He's like, "Good job." I'm like, "Thank you." And then he left. It was pretty short and sweet but it made my day.
Movie night?
Right now, I'm going to say "Book Smart".
The best love advice?
It's simple and a little cliché, but it really resonates with me. They touch this in the series as well. I just think it's very important to love yourself completely before you try to love someone else.
Best trip you've been on?
I was recently in Atlanta. I lived there for one month. I travel alone a lot, but this was the longest time I've really been without friends, without anything or without family. I worked every day in Atlanta on this film. I was just very happy to be there. This city has become my second favorite city I have ever been to because I am from New York. You just start out with such high expectations for cities.
Favorite dish?
I will do a medium PB&J. I'm 19 years old. I don't need to eat healthy food.
Dress up or wear comfortable clothes?
Definitely comfortable clothes. I'm a big guy in a sweatshirt.
Image Source: Storm Santos