In our KristenBellTattoos.com Crush Q&A series, we get to know some of the more intimate details of our favorite celebrities, from their first crush to the best love advice they've ever received. This month we're crazy about The Summer I Got Pretty star Gavin Casalegno.
When Gavin Casalegno first auditioned for The Summer I Got Pretty, his connection to Jeremiah seemed pretty cosmic. The show is based on a series of novels by To All the Boys I've Loved Before author Jenny Khan, who also serves as showrunner for the new series.
"He explores his personality and who he is, his sexuality, his relationships."
"Actually I told Jenny this for the first time [I met] her. I'm like, "Did you talk to my mom or something? How? Have you read my diary? What's happening?" Casalegno told KristenBellTattoos.com. Casalegno was actually about to quit acting to go into real estate when he found out about the audition. It would be a shame if I didn't," he says of his decision to try out for the show. When the actor realized that he was going to move forward with the audition process, he immediately ordered a series of books." I just re-read it for eight hours straight and thought, "Dude, this is such an amazing project to be a part of," he recalls.
Casalegno plays Jeremiah Fisher, the youngest son of Suzanne (Rachel Blanchard) and the younger brother of Conrad (Christopher Briney). The show follows Belly (Lola Tung) as she and her family spend their summers with the Fishers. She is trying to cope with her longtime love for Conrad. But Jeremiah, whom Belli considers his best friend, has feelings of his own that come to mind. There's also Cam, played by David Iacono, an old classmate of Belly's who plays for her heart.
Casalegno can list many similarities between himself and Jeremiah. "Just Jeremiah's joyful attitude, his desire to be the life of the party, the feeling of a golden retriever, but deep down this insecure and perhaps insecure Jeremiah, who you don't see often," he explains. . "And I think there is a lot more weight on his shoulders than shown. And, gosh, it felt so good to be in his shoes for four months. I'm so lucky."
While many fans will watch the show for its romance and love triangle at its center, Casalegno believes the show's real strength lies in its coming-of-age stories. "This series is about people discovering who they are and becoming who they are meant to be. And that goes for Conrad, Laurel, Suzanne and all the characters on the show," he says. One major change the show makes from the books is that Jeremiah is bisexual in the show, and Casalengo believes this is related to the same growing up themes. "He explores his personality and who he is, his sexuality, his relationships," he says. "There's so much to explore and I feel like it was a very fun part to really bring to life, which would make the series more relevant and closer to today's world."
The cast filmed the show in North Carolina in the summer of 2021, and Casalegno describes it as "one of the most fun years" of his life. The first time he met some of the actors, he was sitting in his apartment. "I heard the sound of a car when I honked and Sean [Kaufman] shouting "Gavin!" because they didn't know where I lived, so they just drove around and shouted my name," he says. "It just set the tone for the whole summer." in real life: "We had so much fun exploring our little town, our little beach town, going to the beach late at night, playing pool, going to the pool and doing all sorts of fun things," he says.
Another special part of the show for Casalegno was the relationship between Jeremiah, his mother and brother. Casalegno has two siblings, although he is the eldest and has relied on his relationship with his own mom to substantiate his work on the show. "She's such a rock in who I am and my foundation for everything I've done about my career, my personality, everything," he says.
All seven episodes of The Summer I Turned Pretty will be released on Prime Video on June 17th. Read the rest of Casalegno's KristenBellTattoos.com Crush interview ahead.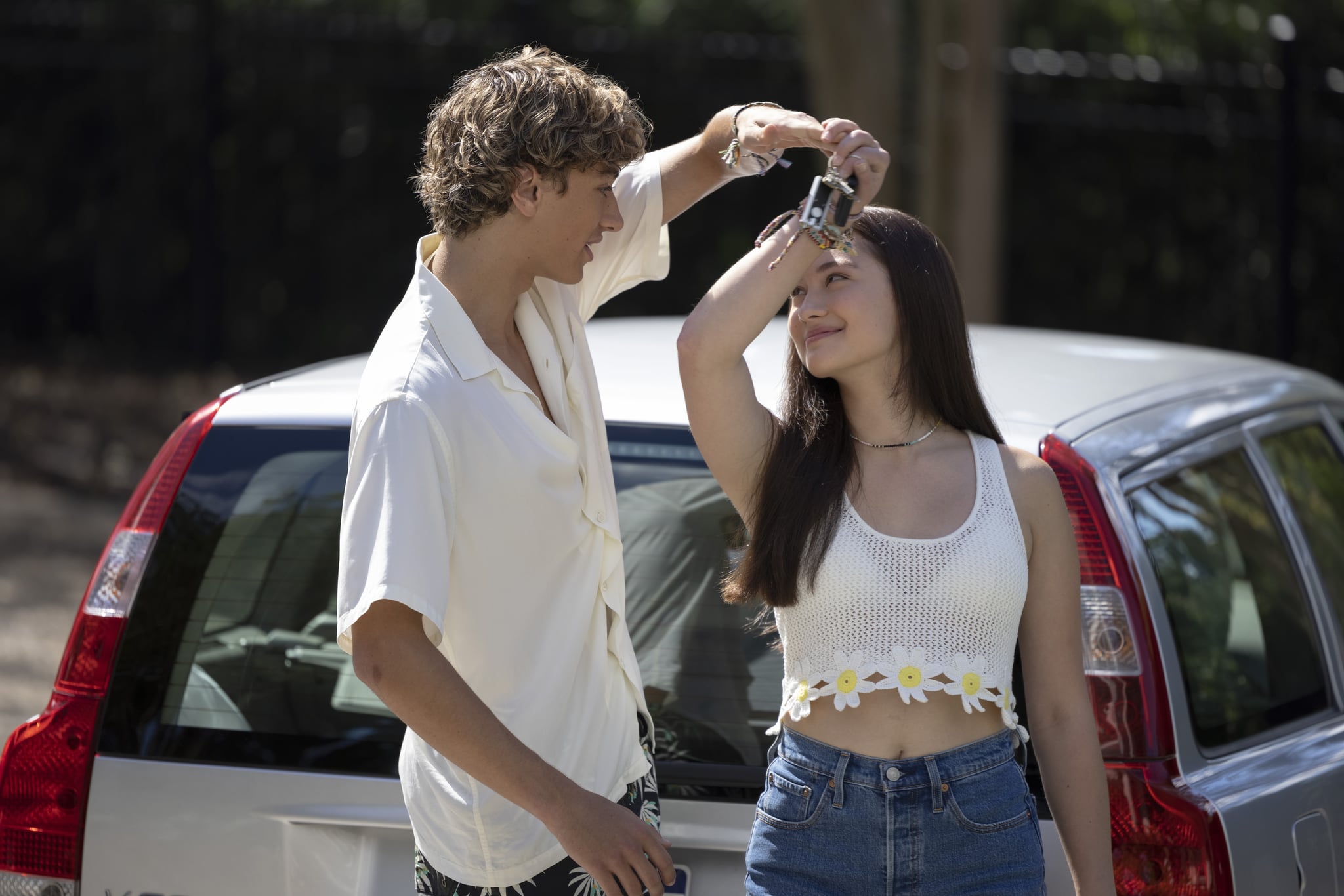 Image Source: Prime Video
Are you Team Jeremiah, Conrad or Cam?
I have to respect Cameron's team, because personally, when I read the book, I was like Cam Cameron all the way. [But filming the show,]No harm was done to David, he played this character so amazingly, but gosh, I just loved who Jeremiah was, this golden retriever with deep insecurities, fears and responsibilities. I felt like I could relate to it in many ways exactly where I am in life. And damn, it was so much fun being in Jeremiah's shoes. So I would say Team Jeremiah. Team Medusa. There are actually people posting Team Jellyfish right now and I'm laughing because I see everyone posting comments. It's just fun to see their support.
Favorite pickup line:
I haven't used a pickup truck in a very long time. I have been in a long term relationship for the longest time. . . . I'm just very direct. When I was younger, I had a few pages of pickup lines and I think I've matured a bit to say, "Look, I know what I want. If you want me to come back, let's go."
Favorite flirtatious emoji:
Do you know the blushing emoji? What about the one with the hearts? 🥰 So cute. It's like another level when you send a regular blush instead of the one with hearts. I just think it's much cuter and that's what I would use. Or the winking face, I like it a lot too. 😘
Signature fragrance (cologne/perfume):
I have two depending on my mood. I love good old Tom Ford Black Orchid. Love, love, love, love. It's softer. I also like Jean-Paul Gaultier's The Aviator. That's what I'm looking for right now, because apparently they don't make it anymore. So I'm very sad. I finish my last bottle.
Favorite type of self-care:
Everyone in my life really dislikes this form of self-care. I'll just delete everything on my phone, social media, everything. I'll put him on airplane mode and say, "Calm down, I'm gone for today." They won't hear from me. They're just like, "Bro, it's like you're having a date," and I'm like, "Sorry, I'm gone." So I definitely like to just pass out. I think this is so important for my mental health, which has been so crazy during COVID-19 and just life changes. Do your thing because you know that your mental health is what matters in the end and the rest of the world can wait.
Evening movie "Going to the cinema":
"Origin." It's a number one classic and the way it was filmed was just a work of art. But it also leaves a lot of room for speculation and talk about it and for opinions. On the contrary, if you watch Titanic, you will cry, right? As I've definitely done it many times, love Titanic or even The Notebook, it's like my number one romantic movie. But Inception just brings a lot of topics and a lot of fun stuff to talk about.
Dress or wear comfortable clothing:
Comfortable clothes. Without a doubt. I mean, you can't beat the good old tracksuit or the good old sweatpants and hoodie. This is my jam.