In our Last Call Q&A series, we take a deep dive into some of our favorite celebs, from when they were last hit by a star to the last song they listened to. Lola Tang is calling us this week.
Lola Tung wants to fix things – she's not the team of Jeremiah, Conrad or Cam. "I'm Team Belly," she tells Popsugar. "I think this is the only correct answer. But I really believe that she should follow her heart, and I believe that she will go on her own journey and discover it herself."
Tung plays Isabella "Belli" Conklin in Prime Video's new series The Summer I Got Pretty. The first season consists of seven episodes and covers the first book in the Summer Books trilogy by Jenny Khan. Another series of Khan's books also inspired Netflix's popular To All the Boys I've Loved Before.
"So by the time we started filming, we already had that kind of connection and it felt like we had known each other for a while. And then I think as we continued filming, those bonds only grew stronger."
In The Summer I Got Pretty, Belli, along with her mom Laurel (Jackie Chung) and brother Steven (Sean Kaufman), travel to Cousins ​​Beach for another vacation with the Fisher family. But it's different this year because Belli is finally coming to her senses and people are starting to notice – like her longtime love, Conrad (Christopher Briney); his brother and her best friend Jeremiah (Gavin Casalegno); and her high school friend Cam (David Iacono).
But for Tang, the show isn't just about a love triangle. One part of the book that the series expands on is Belly's relationship with her best friend, Taylor (Raine Spencer). "It's such an important relationship and I have so many of these friends – from Taylor to my belly – who are in my life and are some of the most important people to me," she says. "And it was really cool to do that with Rain, who plays Taylor, because the first scene we shot, which is basically the first scene in the series, was also the first day we met in person."
During filming, the couple became very close while playing fictional best friends. Tang says, "I remember our last night of filming together being so funny and we were just laughing hysterically, I don't even know what we were laughing at." She adds, "And I'm thrilled to continue exploring that relationship in Season 2."
Tang had more time to build relationships with other cast members before filming began. Two and a half weeks before the cameras rolled, most of the main cast traveled to Wilmington, North Carolina, where the show was being filmed, to get to know each other. "We started to form these relationships even before we started filming," she says. "So by the time we started filming, we already had that kind of connection and it felt like we had known each other for a while. And then I think as we continued filming, those bonds only grew stronger." And shooting on the beach was a lot of fun. "It really felt like you were hanging out with your friends on the beach and then immersed yourself in these little scenes and these little moments," Tung says.
Tang was in her freshman year at Carnegie Mellon College when her manager informed her of an audition for the series. She filmed her audition for the role in her "little college apartment". After many auditions, Khan, who is also the series' showrunner, informed Tang via Zoom that the role was hers. "I was excited and shocked, and then I called my mother in tears. And we celebrated together over the phone," says Tang.
Tang's mom bought her the entire series of books after she blocked part of it. "I read them all and I remember finishing the third book on the roof of my house," Tung recalls. "And I had a very emotional moment, like a moment of one tear… I was so excited to bring Belli's journey to life."
Tang admits he feels the pressure of hosting a brand new show (which has already been renewed for a second season). "One thing that I was really grateful for and very lucky for was the incredible support system in the cast, Jennie and my family," she says. "There are so many wonderful people in my life who have made this process so smooth and so wonderful."
She tries to find time to relax and recharge. "I like to sing and play the guitar a little. So it's a great stress reliever," she says. Many of her high school friends are now returning home from college so she can spend time with them in New York, where she grew up and went to high school. And she will spend a lot of time with her dog Bodie.
Keep reading to find out what else Tang has to say about filming the show, meeting Michelle Zauner, and more.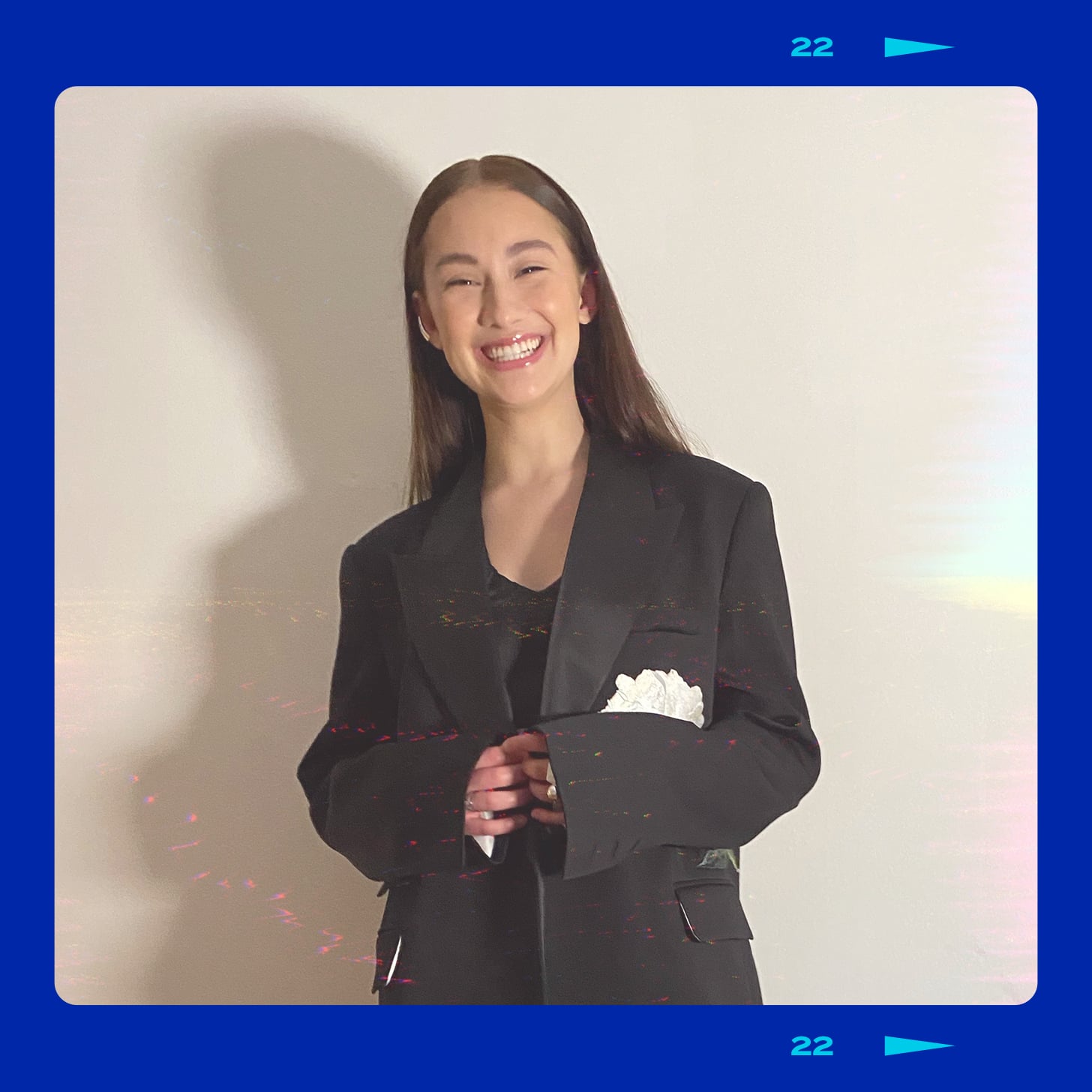 What was your last day on the set of "The Summer When I Turned Beautiful"?
It was an emotional roller coaster. It was also the day after my 19th birthday which was a lot of fun. And it was a really magical day because we were filming some really magical scenes for the debutante ball and most of the cast was still there. We all turned in at the same time and they called each person's name when we turned in. It was an incredibly emotional experience and a day of reflection on the past summer and a celebration of all that we have done. I was so proud to be a part of this production and this cast.
Who was the last Summer I Turned Beautiful co-star you wrote to?
I think today I texted Sean, Chris and Gavin in the press group chat. [The chat] called Conklin/Fischer Summer.
When was the last time you were struck by a star?
I recently met Michelle Zauner from Japanese Breakfast. She is the coolest person in the world and also so sweet and I love their music. We had a great conversation.
What was the last song you listened to?
This morning we listened to music with hair and makeup. I think the last one I remember listening to was a Lizzie McAlpine song. I think it was "By agreement".
What was the last album you bought or listened to?
It may also have been a Lizzie McAlpine album. I think it was her new album ["Five Seconds Flat"].
What is the last photo in your camera roll?
My photo in this morning outfit. My little press outfit. Or it's a photo of last night's sunset. I love my sunset photos.
What was the last show you binge watched?
I watched "Russian Doll". I'm on the second season now, but I watched the first season very quickly.
What was the last movie you watched?
Movie Hannah Montana. It was just in the background, but I think it's a very sweet film. Gives me a lot of nostalgia.
What was the last thing you bought online?
Maybe it was a birthday present for Sean.
What was the last thing you did for fun?
I watched Tony. It was fun.
What was the last thing you did to take care of yourself?
I slept a lot this weekend. I had a lot of things. . . . My mom was really on me about it too. She's like, "Go to bed." So I did.
What was the last book you read?
The last book I read was The Song of Achilles. [by Madeline Miller].
What was the last trip you went on?
We went to LA for work for the show in April.
What was the last piece of advice you received that changed your life?
With the show and everything, a lot of people just told me to enjoy it, be in the moment and be present. I think this is great advice.
Lem Where I Got Pretty will premiere on Prime Video on June 17th.
Hair: Dana Boyer, makeup: Misha Shahzada, stylist: Britt McKamey.
Image Source: Misha Shahzada