In our Last Call Q&A series, we take a deep dive into some of our favorite celebs, from when they were last hit by a star to the last song they listened to. Sarah Katherine Hook calls us this week.
In Netflix's The First Kill, which airs June 10, Sarah Katherine Hook plays a teenage vampire who falls in love with a vampire slayer – so it's definitely challenging. The 27-year-old actress has long been a fan of vampire stories and she's thrilled to bring a new story to the screen, especially one with such a fresh twist.
"I've always been in the vampire world and the horror world," she tells Popsugar. "I was a big fan of The Vampire Diaries. I liked Twilight. What We Do in the Shadows is one of my favorite movies and series. So I feel like I understand the vampire community well."
"What we love most about this show is that their queerness was normal. It has never been questioned and even celebrated."
First Murder is a particularly unique take on the hackneyed vampire genre, largely because it centers around queer relationships. "I feel like the queer community totally deserves this," Hook says. "For some reason, it seems to me that the queer community plus vampires… just make sense. These two together – something clicks in it. Hook is well aware of the responsibility she takes on. "I know that both Imani [Lewis] and I really wanted to do it right," she says. "What we love most about this show is that their queerness was normal. It has never been questioned and even celebrated. So I'm really excited that queer viewers will see themselves in these characters."
With her role as Juliet, Hook has found a character gem to sink her teeth into (no pun intended) and she does it admirably, portraying her character with nuance and verve. Her bond with Juliet is deep. "When I was 16, I was a lot more outgoing than Juliet," Hook says, "but now that I'm older, I feel like I'm talking to her more than ever. I was very, very shy when I was little and I feel like I'm coming back to it. I don't know if it's a pandemic or something, but I feel very close to it these days. I feel like I'm kind of connected to her quirkiness as well as her little awkward moments. I sincerely adore such roles in other films and TV shows, so it was a real pleasure to play her."
Keep reading to find out what else Hook has to say about vampires, Harry Styles, and other cultural touchstones.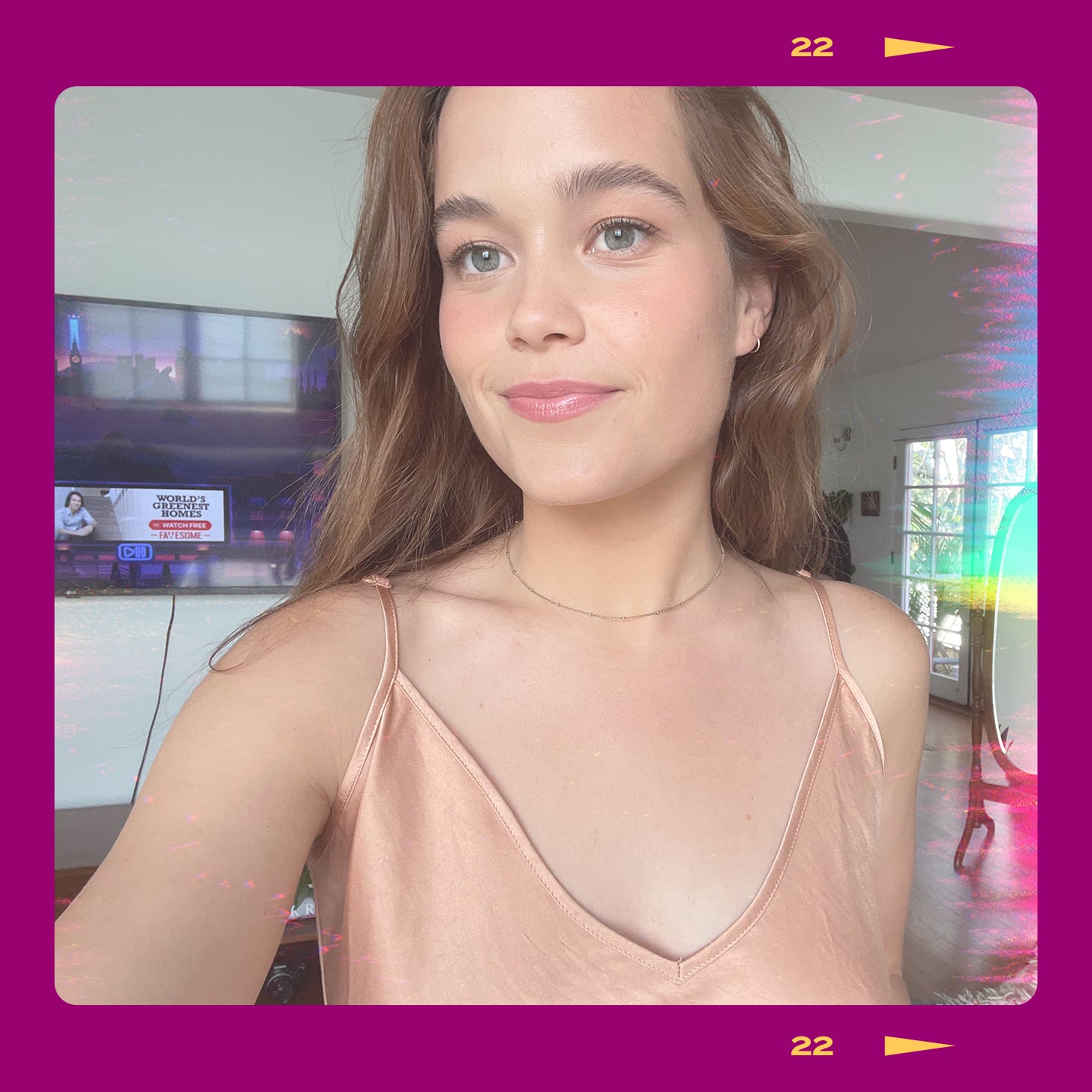 Who was the last "First Murder" partner you wrote to?
Imani. I literally just texted her.
When was the last time you were struck by a star?
I just went to an Elle party and there were so many people that I admire. It was pretty stunning. Just being in this room with everyone made me feel bad. I'm so embarrassed to even say this, but by the end of the night I mustered up the courage to say hello to her, but I just love Pauline Chalamet. I thought she was great on "Sex Lives of College Girls" and had to tell her how much I love her. She was definitely the one I was most excited to meet.
What was the last vampire show you watched or what vampire book did you read?
What We Do in the Shadows is probably the last vampire show I ever watched. In fact, this is not even true; I just watched "The First Murder". I've watched the whole season now. So I think we'll say "First Murder". [As for] latest vampire book, I read a short story the other day with Imani for one of the videos we made. I really support "First Kill" right now.
What was the last show you binge watched?
Oh, I just binge-watched Screenings. I also advise everyone to watch. I was just on the phone with my brother and I said, "Why didn't you watch this?"
What was the last book you read?
The last book I read was Three Women by Lisa Taddeo. I just finished it last week. I really like the way she writes. Her writing style is really special.
What was the last song you listened to?
Harry Styles' new album "Harry's House". "Boyfriends" [was] the last thing I listened to. This is Harry Day.
What is the last photo you have on your phone?
It's a screenshot from my Peloton app and it says "Harry Styles' 20 minute core strength." I sent it to my best friend because of Harry Day. This is proof that today is Harry Styles Day.
What was the last gift you received?
My dear publicist Amanda gave me these very nice earrings. Her roommate makes jewelry and they gave me these precious little heart earrings for press day.
What was the last thing you did to take care of yourself?
I went to the gym today, they have these hot tub chairs, and I thought, "I'm going to do this today." I haven't done it yet since I joined this gym [but] I thought, "I'm going to give myself a good 10-minute massage."
What was the last trip you went on?
Recently I was in Joshua Tree. I went there on a hike; it was for my birthday, actually. It was really beautiful. I've never been. We had a tent, a fire, everything. To be honest, the next time I go, I want to build a yurt. I heard it's really cool, but I wanted to camp for the first time.
What was the last piece of advice you received that changed your life?
To be honest, I learned a lot from my publicist. [She's been saying]"You don't have to give people your whole life. You decide what you want to say about yourself." I liked it because sometimes I really don't know. I am very new to this type of thing. I'm just learning to be in this industry.
Image Source: Courtesy of Sarah Katherine Hook.